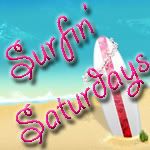 I am 3 days into my new blog now and am happy to be a part of Surfin' Saturday. I am in some serious need of followers here:) So I am Surfin....
I have been adding some new pictures of
toe rings
and
maternity belly rings
to my website today. I will have a log of belly pics up in the next week too. If you have in a Belly Charms belly button ring, please email a picture of your belly to me. I need more cool pics.
For those of you who are not expecting and have a belly ring, I am thrilled to say that I have some AWESOME new crystal belly button rings arriving next week. They are not flexible. But they are hot!!! So they will on my
website
next week. Have a great weekend too and thanks so much for stopping by my new blog!!!